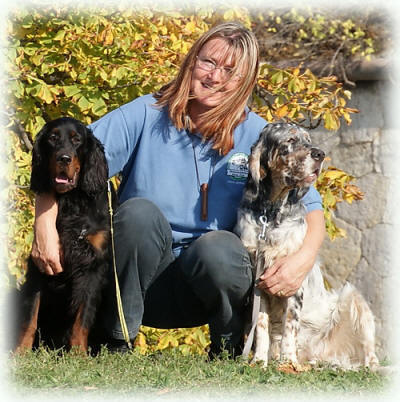 We strive to breed healthy setters with good temperaments and put our emphasis on classic breed type. Our setters are raised as familydogs and are introduced to various situations of life at an early stage: children, other pets, car rides, home appliances, etc

Our puppies are released into their new families at the age of aprox. 8 weeks. They are bred according to breeding regulations of the Austrian setter club. They have hip dysplasia-free parents, have been to the vet, are wormed, vaccinated, chipped and registered and have a vetenary passport as well as FCI/OEKV pedigrees. The parents of our Gordon Setters are PRA-rcd4 tested and our English Setters are BAER tested (audiometry).
Our puppies are only sold on basis of a contract which lists our perception of keeping, returning, etc of our setters.
The new owners get vouchers for puppy-training, dog-shows, HD-check, and much more.
Each puppy comes with its personal diary, tips and a menu for the first days at the new home.

We are always very happy to have our puppies visit us and are also keen and eager to help whenever we can - do not hesitate to contact us in case of problems or if any questions come up.
Doris Archam
<![if !mso]><![endif]>

Depending on the weather Dorea's puppies come at 4 weeks from the puppy room
in Dorea's Cottage, the puppy-house in the garden

Of course:
bland diet ;-) and permanent veterinary control


Adults dinning table

This is still the best kind of food

even the permanent weight control is taken very important and carefully conducted. . .


. . . and who is in need, then get a second helping


I think, in the future I will be a hunting dog

Mrs. quail is welcomed

Hm - it rings a bell - but what?

Also exercises for a great show career were done!

The driving licence is not necessary. But we practise to become calm passengers.

Fasten your seat belts!

The first trip into the field. . .

. . . and the recovery afterwards.

Dorea's Cottage makes you feel good!

Racial discrimination is excluded

Important exercise:
the common nap

kids in private

men's talk

It often happens that someone takes a second Dorea's setter. For example Dorea's Hyper a Touch of Beauty came to her cousin Dorea's Face of Beauty.

Dorea's Hunter's Dream lives with his Daddy Dorea's Desperado

And here some movies about Dorea's setters:

You can find more about Dorea's setters in Großebersdorf near Vienna.
How to get there?


Just outside of Vienna, about 7 km north


(Brünner Straße - Elektro Haas - direction Großebersdorf)

2203 Großebersdorf, Reinberggasse 2a